Heather Carter - Mechanic - 13 / Feb / 2022
Taking Care of your bike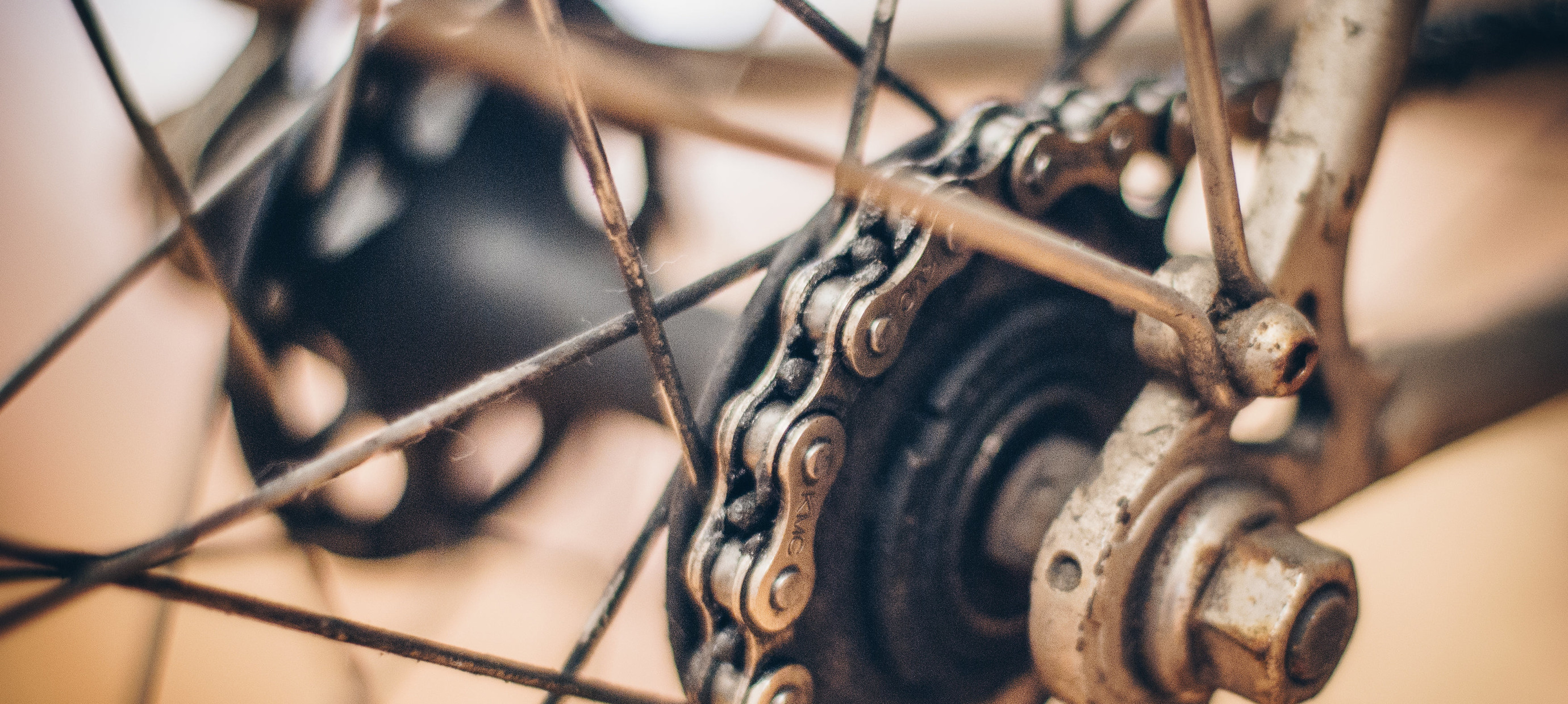 Chances are that if you own a bike, you love getting out and riding it. The sense of freedom, the
adventure and excitement you can experience on a bike, are addictive. Not only is biking good for your
physical health, more and more studies are showing that time spent outside, and especially in nature, is
good for your mental health as well. So get out and ride!
After you get back home, though, don't just put your trusty steed up in the shed and ignore it until the next time you want to go for a spin. Your bike experiences wear and tear with every outing.  Components get dirty, and if you don't look after them, they'll wear out prematurely and may even fail you during a ride leading to injury or expensive repairs. But love your bike, and it will love you back! A little TLC and some preventative maintenance will keep your bike working better, longer.  Here are a few basic bicycle maintenance and cost-saving tips.
DO:

1. Lube your chain regularly. Roughly every 50-60km is a good best practice, but any time it starts to look shiny or dry it's time for some lube. If you can hear your chain squeaking, it's definitely overdue!

2. Clean your chain and cassette. This doesn't have to be done after every ride, but it should definitely be part of your regular maintenance routine. Any time your chain and/or cassette start getting blackened or clogged up with gunk it's time to get out some degreaser and give them a thorough cleaning. Park Tool's Cyclone tool makes this task quick and easy, but an old toothbrush will get the job done too.

3. Keep it clean! As you ride, dirt will build up on the underside of your bike. This can affect the performance of moving parts such as suspension, derailleurs, and even your cranks and bottom bracket over time. To prevent this, give your bike a quick wash when it gets dirty. You can safely use a garden hose to get the job done, or if you really want to show your bike some love, get in there with warm water and a soft rag. Muc-Off makes an excellent bike wash that is safe to use on all parts and components of your bicycle and will leave them sparkly clean. 
4. Replacing your chain before it is completely worn out can help extend the life of your cassette. Your chain and cassette wear on each other during use, so putting a new chain on an old cassette can mean that the teeth of the cassette rings won't align properly with the links of the new chain. This can be prevented by replacing your chain before it gets completely worn out. A chain measuring tool can show you what stage of life your chain is in; replacing it between 50%- 75% wear will often mean that you can get away with replacing just the chain instead of both the chain and cassette.

5. If you are running a tubeless setup, replace your sealant every 3-6 months (recommendations vary depending on riding conditions and which brand of sealant you are using). Sealant dries up over time and doesn't protect as well against flats. In order to avoid walking home or calling for rescue, make sure you always have fresh sealant!
DON'T:
1. Take your bike to the car wash. The high-pressure spray can force water and soap into the bearings of your headset, bottom bracket, and wheels, stripping them of grease and causing them to wear prematurely.

2. Put it away wet. This is guaranteed to lead to corrosion and costly repairs. Metal parts will rust and seize, so make sure your bike – or at least the component parts – are dry before you put it away after your ride. 

3. Store it where it's damp. As mentioned in the point above, your bike has metal parts that will rust with prolonged exposure to moisture. If at all possible, store your bike indoors where it is dry.

4. Lay your bike down or lean it on the drive-side. It can cause you a whole host of costly repairs if parts of your drivetrain get bent. Instead, lean your bike on the non-drive side or put it in a stand if possible.

Keeping these tips in mind before and after you finish your ride will help prolong the life of your bike and keep your riding experience positive! If you wish to learn more about how to care for your bike, Park Tool has a YouTube channel full of excellent how-to videos. Or, you can always talk to us here at Algoma Bicycle Company. We're happy to help you keep your bike in tip-top shape so that you can get out and ride.
Thanks for reading!